Back to Blog...
No Sleep Til Burghley
July 11, 2019
---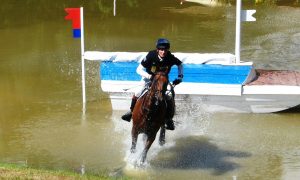 While it might only be July, here at the Lily Pad things are already getting busy for the summer. This week we are hosting the first wave of our guests from the NCS who are staying with us for the week but we are already getting geared up for one of our favourite events of the year – the Burghley Horse Trials. 
The Land Rover Burghley Horse Trials (to give them their official title!) take place Thursday 5th to Sunday, 8th September 2019, and the event is without the premier equestrian event in the international sporting calendar and a focus for the best horses and riders in the world.
Not only does the event bring us a very busy guestbook every year but the event is one with particular significance for us here at the Lily Pad as we are all in love with horses! 
Visitors to our self catering cottages here in Nassington will have no doubt noticed the paddock and stables that adjoin the property and its here that our own horses live and train. While we haven't made it to Burghley yet with one of our horses, there's always time! 
Being such an international highlight in the equestrian calendar, the event always brings us one or two visitors from overseas as well which is always really interesting. Indeed – some last year we hosted a wonderful family from the USA who left us this very kind review: 
"I stayed with a group of friends from the United States at The Lily Pad Cottages for the week of Burghley Horse Trials 2017, and Jane and Andrew could not have been better hosts! There is NOTHING I would change about our stay – the cottage was clean and well appointed, the beds were comfortable (so important after a long day), the grounds were beautiful, and the town was absolutely picturesque. You must walk down to The Black Horse pub, the food was AMAZING!!!! I love Lily Pad Cottages, and cannot wait to go back!"
We can't wait to see who is going to be joining us this year. If you are looking self catering accommodation around and during the period of the Burleigh Horse Trials – be sure to drop us a line or give us a call to discuss your requirements and availability with us! 
Until next time!