Back to Blog...
Options for Staying With us Here at the Lily Pad
July 2, 2019
---
This week on the blog, we thought it might useful to explain a little more about the various self catering options available to visitors who they book with us here at the Lily Pad
The Lily Pad is situated in a quiet location in the lovely stone village of Nassington. A group of 8 bespoke, stone built cottages and apartments ranging from one bedroom to 5 bedroom. 
We tend to be very popular with a wide variety of age groups and group sizes – especially large family groups. We also have a number of other features that make us very popular with large groups like our indoor pool with room for functions too plus our huge patio with a large gas stainless steel BBQ. Its all the ingredients for the perfect family staycation!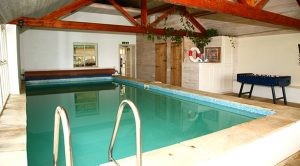 The rooms themselves can be made up as king size doubles or twin rooms. We can sleep up to 55 here if all accommodation booked to maximum occupancy, so the facility is ideal for a large family gathering or special birthday celebration. 
In terms of local amenities here in Nassington, there are two great pubs in the village both within walking distance and a well stocked village shop with long opening hours, as well as a butchers and hairdressers too. There is loads to see and do in the area and we have produced a great days out folder for guests to browse. As owners we live on site and do all the bookings so we can tailor make your trip to suit your requirements! 
As anyone who has visited us (or seen our social media feeds!) will know – dogs are very welcome here at the Lily Pad  and we can organise dog sitting too! 
If you have friends or family North and South then Northamptonshire is the ideal location to meet up. Burghley Park, Peterborough Cathedral, Rutland Water is all on our doorstep plus many more attractions and historic sites. Over the coming weeks, we are really excited to share with you some of our facvourite locations, places to eat and things to do when you join us here at the Lily Pad
Until next time – don't forget to get in touch and let us know how we can help make your next stay in Northamptonshire perfect!